Overview of Services
Serving the needs of the research community...

GCC Small Animal Imaging Shared Resource (GCC_SAIR) has been commissioned to provide a wide range of imaging and radiation treatment resource for animal research. The preclinical services are translational in operation while remaining cutting edge in the advancement of basic research. The services are available to the Augusta University Research Enterprise and other outside scientific investigators.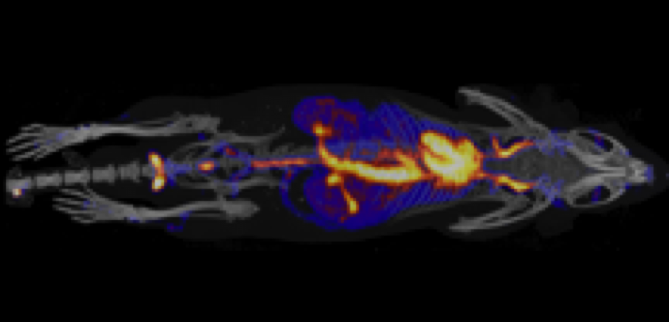 Services
The services available through CGG- SAIR include:
Magnetic Resonance Imaging (MRI)
Single Photon Emission Computed Tomography
Bioluminescence Imaging
Fluorescence Imaging
X-Ray imaging
Radiation Therapy
Image Data Analysis (simple and complex)
Image Analysis Software Development
X-Ray Irradiation
Gamma Irradiation
Instruments and Resources
MR photos- with sample images
GCC- SAIR generates MR images with a 7T magnet operated with Bruker Biospin imaging software and support instruments. The imaging is non-invasive and can execute a wide array of protocols from anatomical imaging, to angiography, to spectroscopy, and many more.
Images (3 included- one instrument and two sample images)
SPECT photos- with sample images
SPECT is a nuclear medicine tomographic imaging technique using gamma rays. It is very similar to conventional nuclear medicine planar imaging using a gamma camera; however, it is able to provide true 3D information. This information is typically presented as cross-sectional slices through the patient, but can be freely reformatted or manipulated as required. Instead of just 'taking a picture' of anatomical structures, a SPECT scan monitors level of biological activity at each place in the 3-D region analyzed.
Images (3 included – one instrument and two sample images)
BLI/FLI/X-Ray photos- with sample images GCC- SAIR has two instruments available for bioluminescence, fluorescence, and X-ray imaging:
Ami-X System by Spectral Imaging

Fluorescence Module
Bioluminescent Imaging Capability

X-ray capabilities

Xenogen IVIS® Lumina

XFO-12 Fluorescence Module
Bioluminescent Imaging Capability
The systems can detect wavelengths between 450 – 860 nm, and can image up to five animals in one session.
Imaging (4 included – two instruments and two sample images)
SARRP- with sample images

GCC-SAIR offers organ specific radiation treatment for small animals and cells through the use of its Small Animal Research Radiation Platform. The treatment is accomplished by using 3-D CT scanning to identify the region of interest for radiation treatment and using high precision beam geometry to localize the specific organ for conformal dose distribution.
Images (2 included- one instrument and one actions/sample image)

Image Analysis listing of software/services

Image data analysis services and training are available from the straight forward to the very complex. We have computer scientist on staff with years of training in writing customized software and undertaking unique image analysis puzzles. The core has a wide, and growing, range of imaging software at its disposal to assist with the image analysis needs of the research community.
Irradiation
X-RAD 320
JL Sheapard Gamma Irradiator
Leadership
Asamoah Bosomtwi, Ph.D. Director; MRI Imaging

Roxan Ara, M.D. Shared Resource Manager
Ali Arbab, PhD. Scientific Director
Chris Middleton, M.B.A Administrative Director
Location and hours of operation
Hours:
Campus Address:
GCC- Small Animal Imaging Shared Resource
Georgia Cancer Center
AUGUSTA UNIVERSITY
1401 Laney Walker Blvd
CN- 5162- MR/SPECT
CN-3129- Optical/X-ray
CN- 1153- SARRP
Telephone: 706-721-1449
Email: CIFSA@augusta.edu
Mailing Address:
GCC- Small Animal Imaging Shared Resource
Georgia Cancer Center
Augusta University
1120 15th Street, CN-3140
Augusta, GA 30912
Telephone: 706-721-1551
Links and Resources
Search available services:

View: by category alphabetically
►

Liquid Nitrogen (1)
Name
Description
Price

Liquid Nitrogen

Inquire

►

Other (3)
Name
Description
Price

Image Data Analysis

Simple and Complex

Inquire

Magnetic Resonance Imaging (MRI)

Bruker 7 T MR system (with or without contrast agent)

Inquire

Small Animal Research Radiation Platform

Internal

$5.00 each




External

$5.00 each